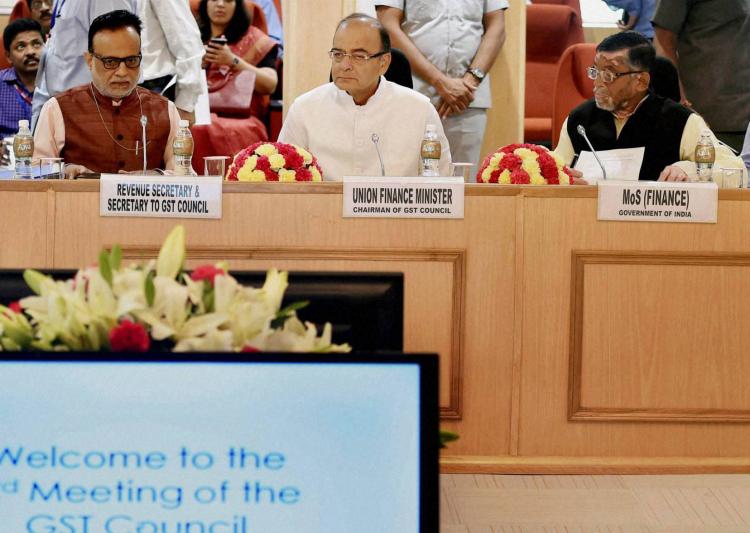 Greetings!
GST Council – Meeting on 03/12/2016
GST - Decision elusive on Dual Control
The GST Council met for the second day today, the 3rd December, 2016 to continue the deliberation on the draft legislations and the issue of dual control.
Mr.Arun Jaitley in his briefing to the press on the deliberations of the Council, informed that certain provisions of the CGST and SGST draft law were discussed and that IGST and Compensation law to be taken up in next meeting.
On the issue of dual control, he expressed the hope that consensus would emerge in next meeting though he added that he is keeping his fingers crossed.
The bone of contention is control over Service Tax Assessees. While the States want control of all assessees (engaged in supply of goods and or services) with annual turnover below Rs.1.5 crores while the Central Government wants control over all Service Tax Assessees.
Date : December 3, 2016
Photo courtesy : indiatvnews.com
GST Council – Meeting on 02/12/2016
While there was no formal press briefing on proceedings in the GST Council meeting on 2nd December, 2016, it is reported that discussion on dual control was inconclusive.
It is reported that on dual control, the States wanted control of all assessees (supply of goods as well as services) with annual turnover below Rs.1.5 crores and vertical split of assessees above this threshold and that since Central Government was not agreeable to this proposition there is no breakthrough in the discussions.
Discussion would continue on this aspects on 03/12/2016 and only after this, discussion would happen on the draft law.
Date : December 2, 2016
GST - November 2016 Revised Draft Legislation made available

The GST Secretariat has made available the following revised Draft Bill, Draft Rules and Forms and Goods and Service Tax (Compensation to the States for Loss of Revenue) Bill, 2016 for comments / feedback.

Click on the respective files to download

Revised Draft Model GST Act

Revised Draft IGST Act

Draft GST (Compensation to the States for Loss of Revenue) Bill

Revised Draft Registration Rules

Revised Draft Payment Rules

Revised Draft Invoice Rules

Revised Draft Refund Rules

Revised Draft Return Rules

Revised Draft Registration formats

Revised Draft Payment formats

Revised Draft Invoice formats

Revised Draft Refund formats

Revised Draft Return formats
The draft Legislation is slated for discussion and approval in the GST Council meeting scheduled on 2nd and 3rd December, 2016.
Date : November 26, 2016
Revised GST draft Bills circulated to State Governments
The Central Government has circulated the draft of the three GST related Bills -the Central Goods and Services Tax Bill, the Integrated Goods and Services Tax Bill, the Goods and Services Tax (Compensation for Loss of Revenue) Bill – to the State Governments.
States have been given seven days to send their suggestions/ comments. These three Bills are slated to be discussed by the GST Council on 24th and 25th November, 2016.
It had earlier been reported that the Union Finance Minister and Finance Ministers of the States would meet informally on 20th November, 2016 to take a political decision on the issue of dual control.
Will GST take back seat in Parliament?
Lok Sabha had listed the three draft Bills for introduction in the Winter Session of Parliament and the expectation was that the Bills would be passed early facilitating the roll out of GST by April 1, 2017.
With discussion on issues related to demonetization taking centre stage in Parliament, the GST Bills are unlikely to be taken up for discussion early.
Reports suggest that the GST related Bills may be taken up in the late November or early December, 2016.
CBEC FAQs on GST in English, Hindi, Gujarati, Malayalam, Punjabi & Telugu
The CBEC has published compilation of FAQs on GST covering 24 topics with over 500 questions. This is the first version based on the Model GST Law which has been released in the public domain.
Click to download FAQs on GST compiled by CBEC
CBEC has released the translation in regional languages of the FAQs on GST earlier published in English.
Translation in Marathi, Tamil, Oriya, Assamese and Bengali is expected to be made available shortly.
Date : November 18, 2016
GSTN - Migration of Registration GST System Portal

Here is the link to the portal for migration of registration of existing assessees of Central Excise, Service Tax and VAT.

The process is

• Your provisional ID will come from your tax officer

• Update profile information and upload documents

Enrolment is taken up in a staggered manner. At present migration of dealers registered under the State VAT Act is facilitated.
GST registration - Enrolment Plan of States
The schedule of the enrolment activation drive for states as in GSTN website is given below.
| | | |
| --- | --- | --- |
| States | Start Date | End Date |
| Puducherry, Sikkim | 08/11/2016 | 23/11/2016 |
| Gujrat, Maharashtra, Goa, Daman and Diu, Dadra Nagar Haveli, Chhattisgarh | 14/11/2016 | 29/11/2016 |
| Odisha, Jharkhand, Bihar, West Bengal, Madhya Pradesh, Assam, Tripur, Meghalaya, Nagaland, Arunachal Pradesh, Manipur, Mizoram | 30/11/2016 | 15/12/2016 |
| Uttar Pradesh, Jammu and Kashmir, Delhi, Chandigarh, Haryana, Punjab, Uttarakhand, Himachal Pradesh, Rajasthan | 16/12/2016 | 31/12/2016 |
| Kerala, Tamil Nadu, Karnataka, Telangana, Andhra Pradesh | 01/01/2017 | 15/01/2017 |
| Service Tax Registrants | 01/01/2017 | 31/01/2017 |
| Delta All Registrants (All Groups) | 01/02/2017 | 20/03/2017 |
Click to download Enrolment Plan of States
State Circulars on migration of assessees to GSTN
Several States have initiated the facilitation for migration of existing assessees registered under the VAT Act of the respective States.
Click to download the Circular of Maharashtra
Click to download the Circular of Goa
Click to download the Communication of Puducherry
It is requested in the portal to complete the enrolment during the specified dates. However, the window will be open till 31/01/2017 for those who miss the chance.
This portal has detailed FAQs and User Manual on Using the GST Common Portal.
Earlier GSTN had released FAQs on the procedure for Enrolment of the Existing Taxpayer on the GST System Portal.
Click to view GSTN FAQs on migration of existing assessees
Date : November 8, 2016