Late fee for delayed filing of Form GSTR 3B for August,2017

Those filing Form GSTR 3B would be surprised with demand for payment of late fee for delay in filing of GSTR 3 B for August 2017.

Where the return had been "submitted" after 20th September, 2017 with a delay of say 2 days, GSTN calculated late fee for 2 days.
If for some reason the "submitted" return is filed on say 26th September 2017, GSTN calculates late fee for 4 days and is required to be paid before submitting the return for September 2017.
The basis of calculation of late has been explained as follows:
The system does entry into ledgers from 3B return on the date on which return is submitted (entries get frozen). The late fee till that date is applied, if date of submission is later than the last date of filing. In case the return is filed later than the date of filing then the late fee for the gap between date of filing and last date of filing return or date of submission (whichever is later) is added in the next month's return.
In case a taxpayer had submitted last month's return on 22nd Sept (D1) and filed the return on 26th Sept (D2), then late fee was calculated for 22nd -20th Sept and shown in the payment sheet of Sept Return (2*100*2). The delay between date of submission (D1) and date of filing (D2) [26th - 22nd Sept] amounting to 4*2*100 is to be paid by the taxpayer. The same is now being added in the return and shown to the taxpayer.
A ticker has been put on the portal explaining this.
Many taxpayers faced issue with EVC as late as October 10, 2017 as can be seen from the following tweets.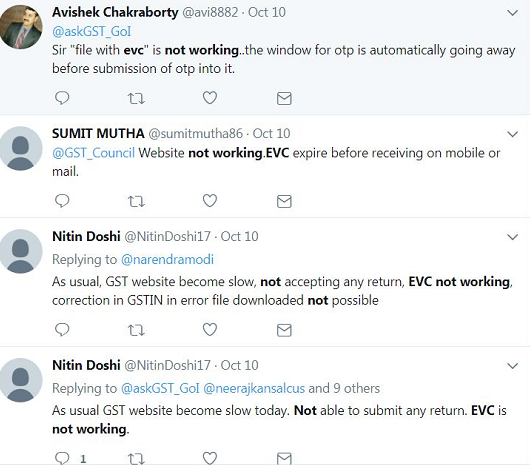 Those who had availed transition credit had issues with EVC and filing GST TRAN 1 got delayed and consequently filing of GSTR 3B was also delayed.
In all fairness, it is hoped that, at least, late fee for delay in only filing of the return that had been submitted within time should be waived.
Date: 16/10/2017
Notifications to give effect to decisions of the GST Council.
Click on the relevant notification to view / download.
CGST Act (Non-Tariff)
CGST Act (Tariff)
IGST Act (Non-Tariff)
IGST Act (Tariff)
UTGST Act (Non-Tariff)
UTGST Act (Tariff)
Circulars
CGST Act
UTGST Act
Date: 13-10-2017
FAQ on Decision of GST Council – Procedures
Filing of Quarterly Return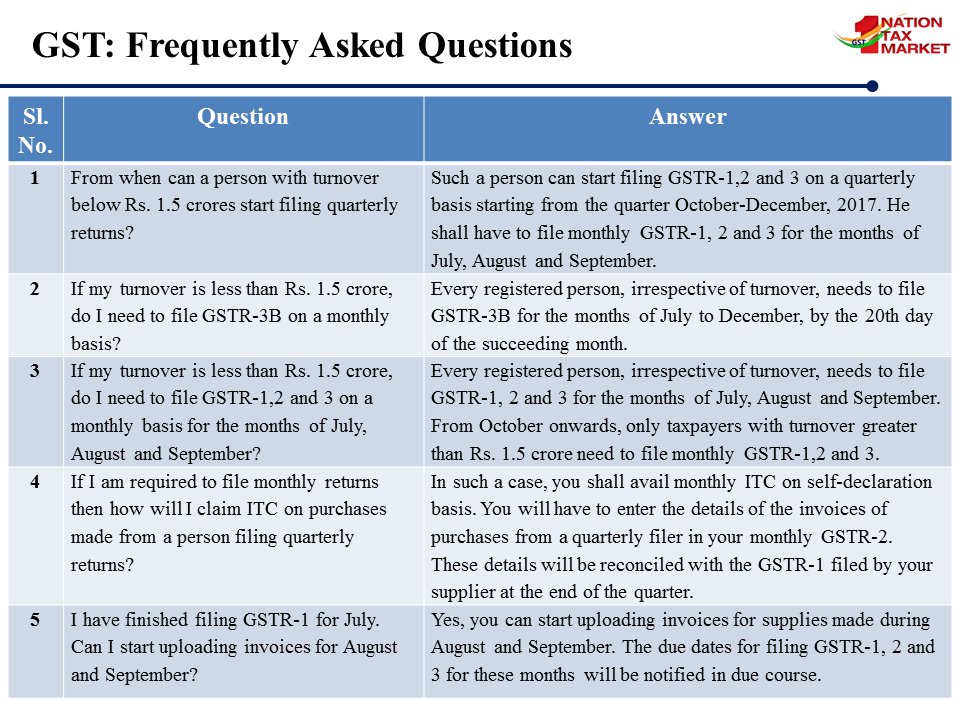 Changes in Composition Scheme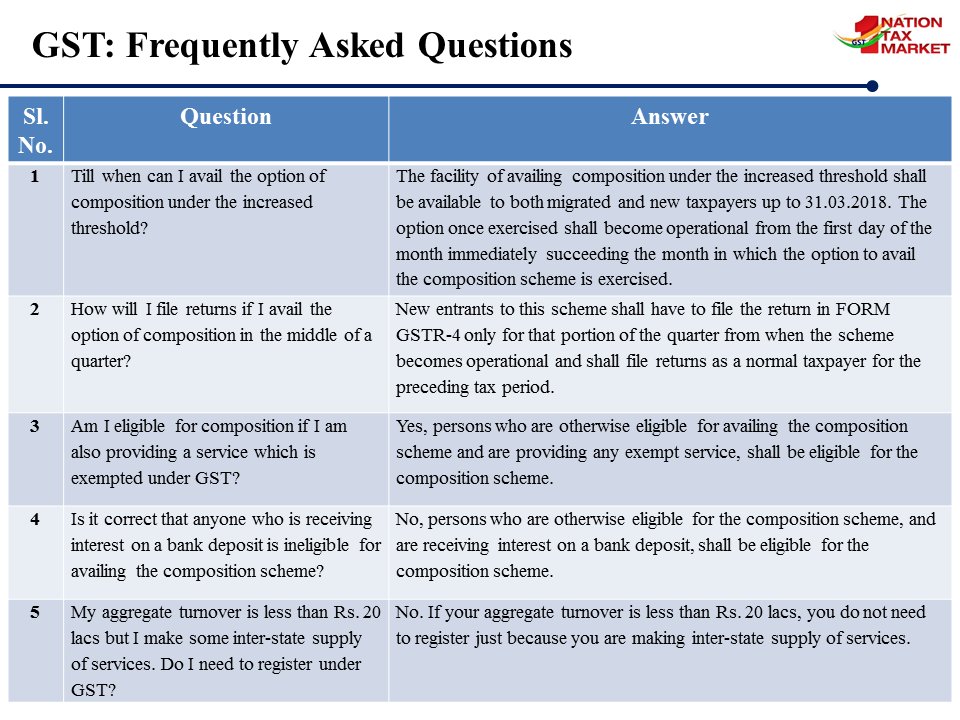 Click to download FAQs on Quarterly Returns
Click to download FAQs on changes in composition scheme
Decision of GST Council – Petroleum Sector
The GST Council has made the following recommendations on rationalization on GST Rate of Tax for Petroleum Sector.
(i) Offshore works contract services and associated services relating to oil and gas exploration and production in the offshore areas beyond 12 nautical miles shall attract GST of 12%;
(ii) Transportation of natural gas through pipeline will attract GST of 5% without input tax credits (ITC) or 12% with full ITC;
(iii) Import of rigs and ancillary goods imported under lease will be exempted from IGST, subject to payment of appropriate IGST on the supply/import of such lease service and fulfilment of other specified conditions.